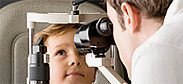 Full comprehensive eye examination
(bulk billed to Medicare)
Contact Lens Consultations
(with free trial lenses)
Referrals for laser vision correction
Digital retinal photography
Childrens vision (all ages)
Integrated management with your doctor
Glaucoma/Macula/Cataract testing
Ocular health assessment & diabetic check
Frame repairs and adjustments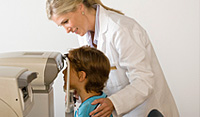 Look after your eye health! No one wants to lose their eye sight! Eye examinations at Medispecs Optical are covered by medicare so there is no charge to ensure that your eye health is optimal!
EYE EXAMINATION

An eye exam takes between 20 to 30 minutes. This is not just a check to determine if you need glasses or your prescription updated, it also includes a thorough eye health check. In particular we are looking for such diseases as glaucoma, cataracts, diabetes, macula degeneration. This thorough exam is performed on everyone, regardless of your age.

DIGITAL RETINAL PHOTOGRAPY

This new technology allow us to take a photograph of the back of your eye. We store the photo on our computer and retrieve it to compare how it looks at your next visit. This is particularly useful for people with eye conditions or a family history of such eye conditions as glaucoma, diabetes, and macula degeneration.

SPECTACLES

We accept outside optical prescriptions, meaning that if you had your eyes tested elsewhere but were unhappy with the service, or prefer our stock, we will happily take over the process.

FRAME SELECTION

Following your eye test, and in the event that glasses are recommended, the optometrist will hand you over to one of the dispensing staff. Choosing new frames can be daunting for people due to the large range of frames available. Our dispensing staff have been trained to assist you with choosing the frame that suits the look you are after, whilst still fitting you properly and capable of holding the lens that has to achieve your visual needs. For example a multifocal lens will need a frame that is deep enough to fit all the components of the lens in. In addition, a poor fitting frame may contribute to it not wearing as well as it should.

LENS SELECTION

In consultation with the optometrist the optical dispenser will also discuss with you your options with regards to your lens selection. In many cases from your prescription a variety of choices will exist depending on how you want your glasses to look, how easy you want to adjust to your new glasses, and how much money you want to spend. The dispensing staff enjoy educating you on your choices, and pride themselves on having their knowledge up to date with the latest technology in order to offer you the best options for your visual needs. Our team regard each of these steps important in contributing to an end product that meets your expectations. We look forward to helping you through the process, without pressure or time constraints, just friendly conversation whilst educating you along the way.

CONTACT LENS CONSULTATIONS

Medispecs Optical has a fast growing contact lens patient base. We believe this is largely because we try to be proactive, and inform you if it is an option for you. We do not wait until you ask. Your optometrist will inform you if your prescription is suitable for contact lenses, and if so what lens options are available to you. Mostly, contact lens consultations are not covered under Medicare. Your optometrist will let you know if you are to be covered by Medicare, and if not the relevant fees will be discussed.

SUNGLASSES

Most people think of sunglasses just as an accessory, however many people do not realise that their prescription can be made to fit into their sunglasses. This is a great option for people who do sports, or spend a lot of time outdoors but do not like photochromatic lenses. Our highly skilled staff can assist you in explaining which sunglasses are suitable for prescription lenses.

HEALTH FUND CLAIMING

We accept all health funds and have the convenience of on the spot claiming through Hicaps. We are able to do glasses with no gap, but this will depend on the frame you have chosen and the lens you require to meet your visual needs. Your allowance resets each year so you should really take advantage of your optical cover each calender year.

SAFETY GLASSES